How to Apply for an Advertised Position
The Recruitment & Selection Process
Our vacancies usually get advertised on our careers website as well as Seek and other job borads (Natural Resource Manager, Ethical Jobs etc). Roles that are based in remote communities may also be advertised on community job or notice boards.
For vacancies that are posted online, we ask that where possible, applicants use our online recruitment tool to apply for the position that they are interested in.
Our Timeline
We will usually contact you within one to three weeks after applications close with the outcome of your application. Sometimes this email may go to your Spam or Junk folder.
Please note that due to field work and remote teams recruitment timelines may be extended. Please do not hesitate to contact our Recruitment Officer at jobs@nlc.org.au for any queries.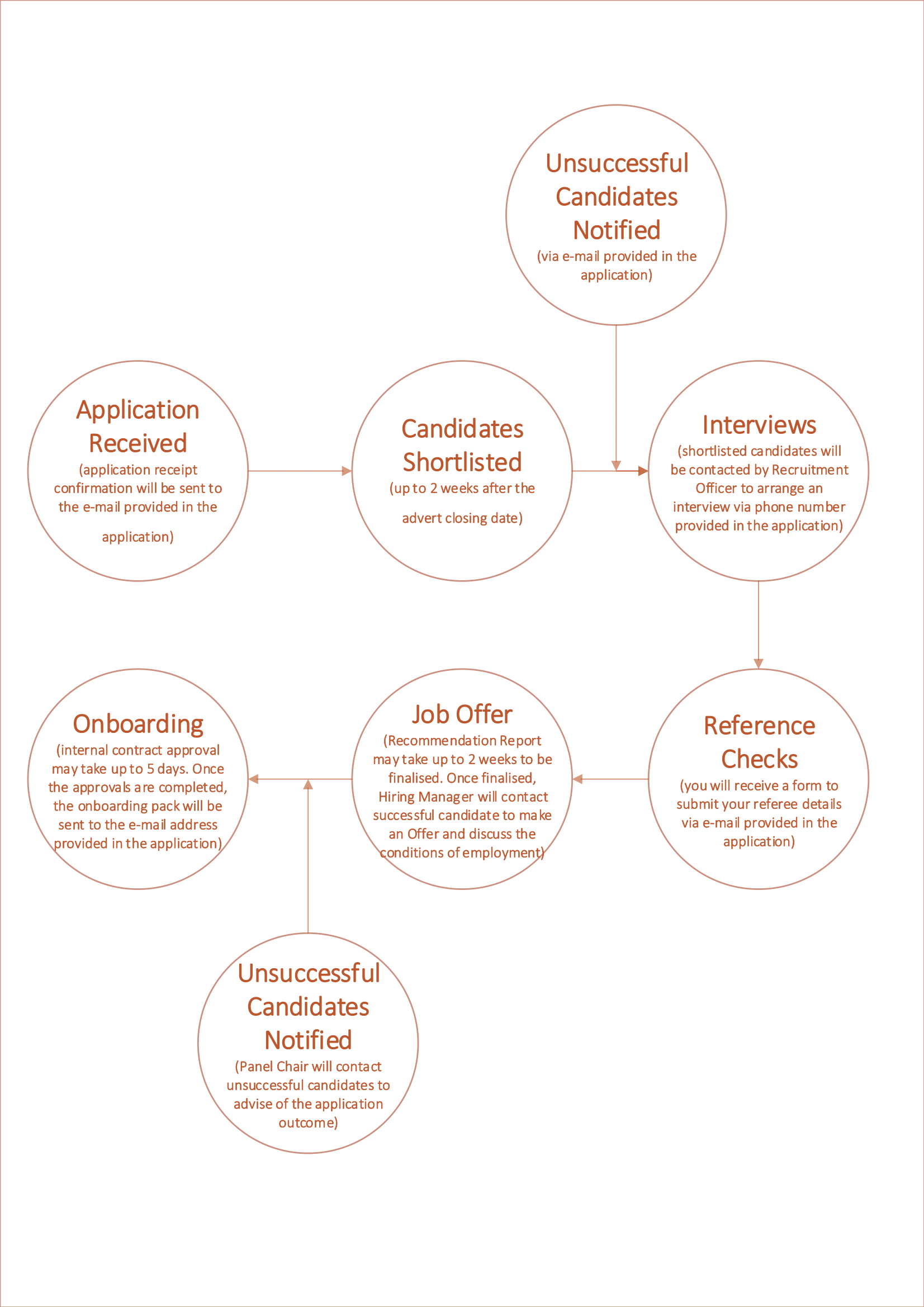 Your Application
A well written application is your best opportunity to make a great first impression and to demonstrate why you are the most suitable person for the job. Depending on the role you apply for you may need to address each of the essential and desirable selection criteria which are contained in the Position Description of the vacant role. Please note if the ad states you need to address the selection criteria and you don't, you will not progress to the next stage of recruitment.
Where possible, applications should be submitted online. If you do not have access to a computer please contact our team on (08) 8920 5140.
Late applications will not normally be considered after the candidates have been shortlisted for the interview stage. Requests for extensions should be made personally with the nominated contact person before the closing date.
Your application should contain the following elements:
1. Cover Letter
2. Current Resume with contact details of at least two referees
3. Statement Addressing the Selection Criteria (if applicable to the position)
4. Any supporting documentation you may wish to submit (e.g. copies of qualifications)
5. Please ensure that your application is in Microsoft Word or Microsoft PDF
6. Maximum file size of the documents is 2MB each
Cover Letter
It is a good idea to include a well written cover letter in your application. If you are also submitting a statement addressing the selection criteria, your cover letter may be shorter and only outline a couple of key points and refer to your application.
If the position you are applying for does not require you to submit a statement addressing the selection criteria you may want to add some more information to your cover letter (e.g. what qualifies you for the job, what do you feel makes you a great candidate for the role and how your past experience can help you and the NLC in the position).
Current Resume
Please make sure that you attach a current resume to your application. Here are some basic tips for writing a resume:
• Maximum 3 pages
• Include current contact details
• Include current referee contact details
• Employment history and service dates


o List the most recent experience first

o List key activities and outcomes

• Education


o List the most recent qualification first
Statement Addressing the Selection Criteria
Selection criteria identify the knowledge, skills, abilities and experience required by a candidate in order to successfully carry out the requirements of the position. Selection criteria standardise the selection process and allow for candidates to be assessed on merit. The most important aspect of addressing selection criteria is to provide evidence of your ability by giving actual examples of what and how you have done something.
A common approach to addressing selection is to use the STAR approach.
• Situation - Set the context by describing the circumstance where you used the skills or qualities and gained the experience.
• Task – Explain what your role involved?
• Actions – Detail what you did to get the task done (ie how did you do it?) (this is the most important step).
• Results - What did you achieve? What was the end result and how does it relate to the job you are applying for?
Example Selection Criteria:
Demonstrated ability to use a wide range of software features of Microsoft Word and Excel.
Sample Response:
As the Personal Assistant to the General Manager at XYZ, about half my time was spent preparing correspondence and reports for the General Manager using Word and Excel. I have experience in formatting large documents, using style guides and inserting e.g. table of contents. I have also frequently used mail merges to send out bulk customised letters to stakeholders. I have a good working knowledge of Excel including in the use of VLOOKUP functions, the creation of Pivot Tables and basic macros. These skills have assisted me in creating professional correspondence as well as reports as well as completing tasks in a timely and efficient manner.
Our Vision
Our vision is to have the land and sea rights of Traditional Owners and affected Aboriginal people in the Top End of the Northern Territory recognised and to ensure that Aboriginal people benefit socially, culturally and economically from the secure possession of our land, waters and seas.
We aim to achieve enhanced social, political and economic participation and equity for Aboriginal people through the promotion, protection and advancement of our land rights, and other rights and interests.
Tips
Here are some more tips on writing your statement addressing the selection criteria:
• Be honest and factual – if you misrepresent yourself in your application or interview, this may become grounds for termination of employment.
• Respond to each criterion separately and if it is a more complex criterion which includes several parts, make sure you respond to each part.
• 1-2 paragraphs per criterion should be enough.
• Provide examples of how you have applied the skill in the past. Do not simply state that you possess the skill.
• Be clear and concise.
• Check spelling and punctuation – remember that your application is a sample of your ability to communicate in writing.
The Interview
The purpose of the interview is to provide you with the opportunity to expand on information presented in your application, and to enable the panel to gather further information for the assessment process.
The interview will normally be structured so that each interviewee will be asked a series of identical questions based on the selection criteria. It is not an opportunity for the Selection Panel to ask applicants 'tricky' or obscure questions, but rather to assist you in presenting your case in the best manner possible.
There are 4 types of questions you may be asked:
• Open Question:


o i.e. "Why are you interested in this position?"

• Closed Question:


o i.e. "Are you able to travel on a fortnightly basis for up to four nights at a time?"

• Hypothetical Questions:


o i.e. "What would you do if you disagreed with your supervisor's instructions?"

• Behavioural Questions:


o i.e. "Can you tell us about a time where you were in a conflict situation with a colleague. What was the situation and how did you handle it? What was the outcome?"
To prepare yourself for the interview it is a good idea to practice how you will tell the selection panel about yourself and your experience. Using the selection criteria listed in the Position Description and potentially the information available on the NLC website, think about what sort of questions the panel might ask you and what examples from prior work experience you would use to answer those questions.
Do not forget to present yourself well – be neat and tidy when you go for an interview and always be on time.
In addition to interviews, our selection methods can include practical tests or short case studies that you may need to complete in a given timeframe.
Reference Checks
Privacy laws ensure that Information provided as part of your application will not be used or disclosed other than to assess your suitability for a position at the NLC. By providing the name of referees, you are agreeing for the NLC to discuss your personal details with the nominated third parties.
The selection panel will normally seek information from your nominated referees about your potential or demonstrated ability to meet the selection criteria. Referees will be required to confine their information to direct knowledge of you. It is therefore important that you nominate referees who are able to discuss your suitability in relation to the selection criteria. You may like to provide them with information about the position for which you are applying including the selection criteria, so that they can be prepared to give relevant and considered information to the selection panel.
The NLC reserves the right to contact any suitable referee whether the candidate has nominated them or not.
Notification
You will be notified in writing or by email of the outcome of your application.
Post selection feedback
Post-selection feedback is available to applicants upon request. This will be provided confidentially by the chair of the selection panel. If you are unsatisfied with feedback or with any other aspect of the selection process, please email jobs@nlc.org.au or call the recruitment team on 08 8920 5140.
Proof of Working Rights
If you are successful in gaining employment you will need to provide proof of your rights to work in Australia. We will only be able to provide visa sponsorship in exceptional circumstances and when we are unable to find a suitable candidate who is a permanent resident or citizen of Australia.
Probation
Depending on the role your probation period will be a minimum of three (3) months or a maximum of six (6) months. During this period, feedback on work performance is given. Probation may be extended or employment terminated if performance is unsatisfactory. Upon satisfactory completion of this probationary period, the appointment will be confirmed.
Employment Conditions
The majority of NLC Employees are covered by the Northern Land Council Enterprise Agreement 2018 – this sets out the employment conditions and entitlements.
Full time employees work 38 hours a week and if they are based in Darwin they get 5 weeks annual leave, and 18 days personal/sick leave. Part time employees work less than 38 hours and get annual leave as well as personal/sick leave on a pro rata basis. Full and part time employees based in our regional locations get some extra days leave.
In addition full and part time staff may receive allowances such as district allowance and annual airfare allowance.
If you require any further information to assist you with your application, please call us on 08 8920 5140, email jobs@NLC.org.au or contact the nominated contact person in the advertisement for questions that are specific to the position itself.
NLC Special Measures
Cultural knowledge and lived experience are central to the work that we do. That's why The Northern Land Council (NLC) aims to achieve a workforce that is representative of the community we serve.
To support this commitment, all NLC job vacancies are advertised under a special measures recruitment plan giving priority consideration to eligible Aboriginal and/or Torres Strait Islander applicants.
Aboriginal and/or Torres Strait Islander applicants who wish to be given priority consideration under the NLC special measures recruitment plan must indicate that they identify as Aboriginal and/or Torres Strait Islander in their application.
For NLC vacancies ASO4 and below, applications are limited to the detailed resume and a cover letter that should be submitted online via NLC Jobs Page.
For NLC vacancies ASO5 and above, including Common Law contract vacancies, applications need to include an addressed selection criteria statement, detailed resume and a cover letter.
The resume should set out details of education, qualifications, past work history, level and job duties, achievements, and details of appropriate referees (ideally current supervisors). The selection criteria should address essential skills and experience listed in the Position Description. This information will help the selection panel in determining whether you meet all of the essential selection criteria at the level suitable for the vacancy and warrant further consideration.
There are currently two types of NLC special measures:
Priority Consideration for Aboriginal and/or Torres Strait Islander Applicants:
1. Vacancies are open to the public, but eligible Aboriginal and/or Torres Strait Islander applicants will be assessed first and offered the vacancy if they meet the essential selection criteria and are suitable at the level of the position.
2. All other applicants will only be assessed for selection if there is no suitable applicant under special measures who accepts the vacancy.
Designated Aboriginal and/or Torres Strait Islander Positions:
1. Vacancies are reserved only for eligible Aboriginal and/or Torres Strait Islander applicants and no other applicants will be considered.
2. The applicant selected under special measures must meet all the essential selection criteria and be suitable at the level of the position.
3. If no Aboriginal and/or Torres Strait Islander applicant meets this standard, the job will not be filled.